In the vast and ever-evolving world of Old School RuneScape (OSRS), players are constantly seeking new challenges and adventures. One of the most engaging aspects of the game is the Slayer skill, which allows players to battle various monsters and earn valuable rewards. To embark on these epic quests, players turn to Slayer Masters who assign tasks. Among these mentors, one stands out as a pivotal figure in the early stages of a player's Slayer journey: Mazchna. In this article, we will delve into the world of OSRS and explore Mazchna's role, his unique characteristics, and why he's a vital part of any budding Slayer's experience.
Meeting Mazchna: The Slayer Master
Mazchna, the Slayer Master, is one of the first Slayer Masters players encounter in OSRS. He can be found in the small village of Canifis, which is accessible after completing the Priest in Peril quest. This location is central for low-to-mid-level players who are just beginning their Slayer training. Mazchna serves as an ideal starting point for adventurers eager to hone their Slayer skills.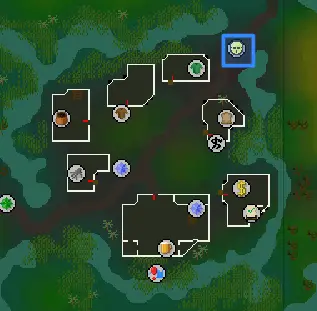 Task Assignments: A Stepping Stone
Mazchna provides players with a range of Slayer tasks, mostly targeting creatures with relatively low combat levels. This makes him an excellent choice for players with lower combat stats who want to ease into the Slayer skill. Some of the common tasks assigned by Mazchna include killing cave bugs, cave crawlers, and banshees, among others.
Completing these tasks not only grants valuable Slayer experience but also allows players to earn Slayer points, which can be exchanged for rewards, such as the Slayer Helmet and other useful equipment. As players gain more experience and confidence, they can move on to higher-level Slayer Masters like Duradel or Nieve for tougher assignments.
The Importance of Slayer Masters
Slayer Masters like Mazchna play a crucial role in the progression of an OSRS player's character. They offer direction and structure to the Slayer skill, guiding adventurers to take on progressively challenging tasks. These tasks are an essential part of the game as they encourage players to explore the vast world of Gielinor and engage with its diverse range of creatures.
Moreover, Slayer Masters foster a sense of accomplishment as players work towards completing tasks and gain experience. This not only helps in leveling up the Slayer skill but also contributes to the overall growth of the character, enhancing their combat abilities and unlocking new equipment and abilities.
Getting to Know Mazchna
Mazchna is more than just a Slayer Master; he has his own unique charm. His gruff exterior hides a fascinating backstory. He is an adventurer who came to Canifis in search of the infamous vampire, Count Draynor, and decided to stay on as the local Slayer Master. This gives him an air of authenticity and adds depth to his character.
His demeanor, which some might describe as "no-nonsense," is perfect for new Slayer enthusiasts looking for clear and straightforward instructions. His straightforwardness is often appreciated by players eager to jump into their assignments without much fuss.