The Salve Amulet is a valuable item in Old School RuneScape (OSRS), renowned for its formidable undead-slaying capabilities. Crafted from a Salve amulet (e), it grants players a significant boost in attack and strength when combating undead creatures like zombies, ghosts, and vampires. This amulet has become a staple for players seeking to efficiently train combat skills or tackle undead-themed boss monsters like the Barrows Brothers.
Salve Amulet Base Stats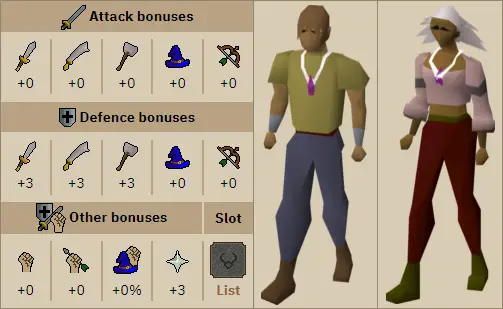 Attack Bonuses:
Stab: +0
Slash: +0
Crush: +0
Magic: +0
Ranged: +0
Defence Bonuses:
Stab: +0
Slash: +0
Crush: +0
Magic: +0
Ranged: +0
Other Bonuses:
Strength Bonus: +0
Prayer Bonus: +0
Special Ability:
The Salve Amulet provides a damage and accuracy bonus when fighting undead creatures. The standard Salve Amulet increases your damage and accuracy by 15%, while the "Salve Amulet" (enchanted version) provides a 20% increase.
The Salve Amulet also stacks with Void Knight equipment and Slayer Helm when on a Slayer task, making it highly effective against undead Slayer tasks.
Requirements:
To equip the Salve Amulet, you need an Attack level of 20 and a Prayer level of 18.
Obtaining the Salve Amulet:
The standard Salve Amulet can be purchased from Tynan's Fishing Supplies in Port Phasmatys for 300 Ecto-tokens, provided you've completed the "Ghosts Ahoy" quest.
The Salve Amulet (e) can be obtained by using a Tarn's diary on the standard Salve Amulet. Tarn's diary is a reward from the "Haunted Mine" quest. Once the diary is used on the standard amulet, it becomes the enchanted version.
Uses:
The Salve Amulet is highly sought after for Slayer tasks involving undead creatures, such as Aberrant Spectres, Ankous, and some types of ghosts. It significantly boosts your damage and accuracy against these creatures, making tasks more efficient.
The Salve Amulet (e) is often used by players training combat skills against undead monsters and in certain boss fights, like the Barrows brothers.
When used in combination with other gear, such as Void Knight equipment and the Slayer Helm (i), it can provide substantial damage and accuracy bonuses against undead Slayer tasks.
---
The Salve Amulet is a valuable and specialized amulet in OSRS, prized for its combat bonuses against undead creatures, which can significantly enhance efficiency and effectiveness during certain Slayer tasks and combat encounters.