Fruit tree patches are specialized farming plots where players can plant and grow fruit-bearing trees. Unlike regular trees, fruit trees require more care and attention but yield various fruits upon maturity, which can be harvested for consumption or sold for profit. There are six fruit tree patches located across Gielinor:
1. Tree Gnome Stronghold
The Tree Gnome Stronghold patch is the most commonly used fruit tree patch due to its convenience and accessibility. It's located just south of the Grand Tree, and players can pay Glarial's amulet to the gardener, paying for the farming services in advance to take care of the tree.
2. Brimhaven
Situated on the tropical island of Karamja, the Brimhaven fruit tree patch provides a different range of fruits and is a popular choice for those seeking variety in their yields. Payment to protect the tree can be made in advance.
3. Lletya
Accessed after completing the "Mourning's End Part II" quest, the Lletya fruit tree patch offers a unique farming experience for higher-level players. It is somewhat secluded and provides rare fruits.
4. Catherby
Located on the Catherby peninsula, this patch is conveniently close to a bank and the fruit tree patch is also home to a fruit tree farmer. Paying the farmer in advance ensures the tree's safety.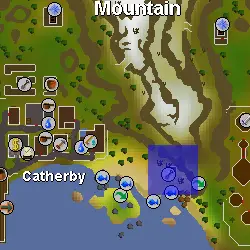 5. Herblore Habitat
The Herblore Habitat fruit tree patch is a remote location that requires players to have completed the "Back to my Roots" quest. It provides unique fruits, perfect for advanced farmers.
6. Prifddinas
In the elven city of Prifddinas, players with access to the "Song of the Elves" quest can utilize the fruit tree patch. This patch is extremely convenient for high-level players.
Managing Your Fruit Tree Patches
Effective management of your fruit tree patches is crucial to ensure a steady supply of fruits and Farming experience. Here are some key considerations:
Timing Your Planting
Fruit trees take significantly longer to grow than regular trees, making proper timing essential. Use the in-game calendar or farming timers to keep track of growth cycles.
Disease Control
Fruit trees are prone to disease. To minimize this risk, pay the nearby gardeners in advance to protect your trees. This is a wise investment to avoid losing both your tree and any potential profits.
Composting
Using supercompost on the soil before planting can increase your yield and the tree's overall health. Make it a habit to supercompost your patches.
Regular Check-ins
Visit your fruit tree patches regularly. This allows you to keep an eye on their growth, harvest ripe fruits, and replant new saplings promptly.