One of the key factors to success in Oldschool Runescape is having the right gaming mouse. Whether you're grinding for hours on end or taking on some of the game's toughest challenges, having a mouse that's designed for performance and precision can make all the difference.
In this article, we'll take a look at some of the best gaming mice for Oldschool RuneScape and break down what makes them stand out from the rest. But, remember, most of these mice can also be hooked up to your osrs tablet or mobile when playing the App version of the game.
---
Logitech G305 LIGHTSPEED Wireless Gaming Mouse
Overall, this is a simple, easy to use, fast moving and affordable mouse for all players. The programmable buttons is a feature you should look for on mouses for pking in osrs. As it allows you to programme the f-keys, making switching between inventory and prayer tabs super easy to do when pking or pvming. The Logitech G305 is compatible with both PC and Mac systems and comes in a sleek black design. So, it can easily be plugged into any laptop for osrs.
---
Corsair Ironclaw Wireless RGB – FPS and MOBA Gaming Mouse
The Corsair Ironclaw Wireless RGB gaming mouse is a versatile accessory that is ideal for FPS and MOBA gaming. It features an 18,000 DPI optical sensor for precise and accurate movements, and has sub-1 ms SLIPSTREAM wireless technology for a fast and responsive connection. The mouse is designed for comfort and has a contoured shape that fits the hand naturally, with textured grips for added control. The Ironclaw also features customizable RGB lighting, giving you the option to personalize your setup.
---
Logitech G502 HERO High Performance Wired Gaming Mouse
The Logitech G502 HERO High Performance Wired Gaming Mouse is an exceptional gaming accessory designed for maximum performance. It boasts a HERO 25K sensor with a sensitivity of up to 25,600 DPI for pinpoint accuracy, and customizable RGB lighting to fit your style.
The mouse has 11 programmable buttons, allowing for customizable macro and shortcut settings to enhance your gaming experience. The G502 HERO is compatible with both PC and Mac systems and comes in a sleek black design with adjustable weights for personalized comfort.
---
Razer Basilisk V3 Customizable Ergonomic Gaming Mouse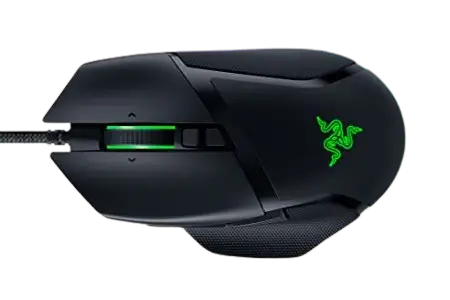 The Razer Basilisk V3 is a customizable ergonomic gaming mouse designed for ultimate speed and precision. Featuring the fastest gaming mouse switch, a 26K DPI optical sensor, and 11 programmable buttons, this mouse allows for unparalleled control and customization. With Chroma RGB lighting and a HyperScroll Tilt Wheel, the Basilisk V3 is not only high-performing but stylish as well. Available in Classic Black, this mouse is the perfect addition to any Oldschool Runescape gaming setup.
---
Logitech G203 Wired Gaming Mouse
The Logitech G203 Wired Gaming Mouse is the ultimate tool for gamers seeking speed, precision, and style. With a powerful 8,000 DPI sensor, this mouse is capable of tracking even the smallest movements with incredible accuracy. Featuring six programmable buttons, the G203 allows you to customize your gaming experience.
This is one of the most affordable mice on our list, at just 28 dollars. While it may miss out on some of the high-performance features of the others listed. If you prefer a simplistic mouse that does everything you need for OSRS, then this might be the one for you.
---
Picking the perfect mouse for OSRS
Having the right gaming mouse can make a world of difference when playing Oldschool RuneScape. It's of a similar importance to finding the perfect monitor for osrs. With so many options available, it can be tough to know which one is right for you. We hope this guide for the best OSRS gaming mice has been helpful. Whether you prefer some of the cheaper mice in this list or more expensive ones, we've provided a good variety.
But ultimately, the best gaming mouse for Oldschool RuneScape will depend on your personal preferences and needs. We hope this article has provided you with valuable insights to help you find the perfect mouse to take on the challenges of Gielinor. If you're interested in upgrading other areas of your setup then be sure to check out our article on the best gaming chair for osrs.